In GTA Online, a Vysser Neo sports car has appeared, as well as bonuses for plot tasks of the casino, a t-shirt The Diamond Vintage and not only
3 min read
Thanks to everyone who took part in the opening ceremony of the Diamond Hotel Casino! It was a milestone in the history of GTA Online: how just reported the Hollywood Reporter magazine, last week more players than ever played in GTA Online, starting from the very start of the game in 2013.
And of course, we would like to express special thanks to all new players and those who, after a long break, returned to Los Santos to celebrate the discovery of Diamond with us.
Double GTA $ and RP for casino story missions
This week for casino plot tasks accrued double awardsso go ahead: push through the crowd of drunk VIP party-goers to the exit of the penthouse, tidy yourself up and go to Miss Baker's office. You have to help her protect Tao Chen from the Daggans family, and if you manage to settle this aggressive takeover of the casino, you can count on impressive dividends.
Enter the game to get a T-shirt The Diamond Vintage
Some things only get better with age – for example, wine, cigars and souvenir T-shirts. Enter GTA Online any day before August 7 and you will receive a gift t-shirt The Diamond Vintage.
Autopodium: Grotti Turismo Classic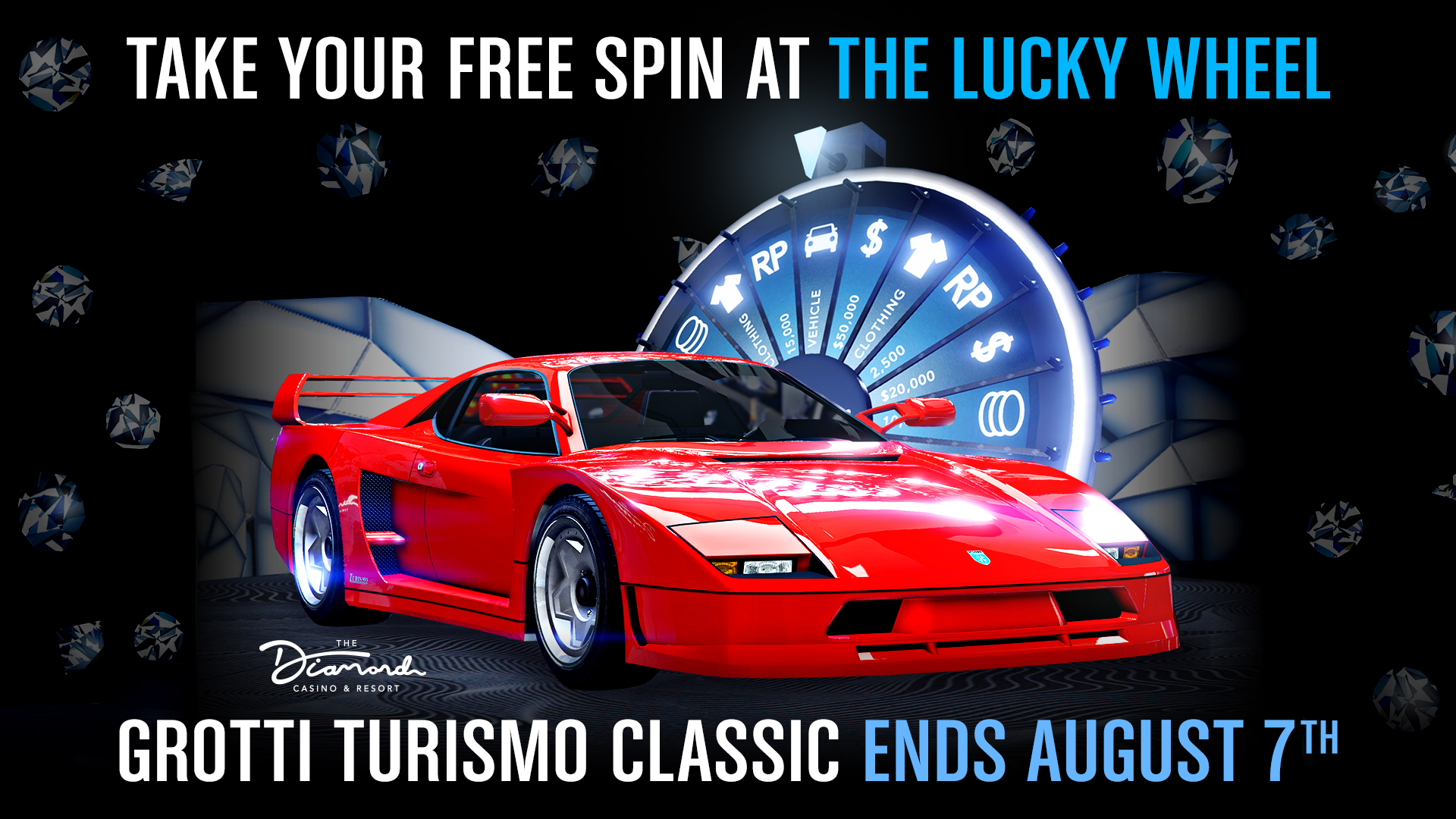 We remind you: once a day you can spin the wheel of luck in the main hall of the casino for free. This is your chance to win GTA $, RP, clothes and much more. This week's main prize is Grotti Turismo Classic, legendary mid-engined sports car. It is even scary to trust a parking attendant of such a prestigious car: perhaps he will roll on it not at all in the garage!
And by the way, about valet parking: when you proudly enter a casino, you don't have to torture or shoot them at all. Just give them your car keys!
New arrivals in the casino store
This week, the regularly updated assortment of the casino shop has been replenished with a whole series of new products: among other things, you can purchase new sculptures, paintings and clothing items, such as goose foot jacket and gold watch Kronos Tempo.
Discounts on cars and weapons
Speaking of investment: do not spend all the money in one store. We advise to look into Amma Nationwhere is acting now 30% discount on futuristic blaster Up-n-Atom-isator, laser machine and plasma torch. As for the transport – now by 30% reduced price for a pair of exotic supercars, Grotti X80 Proto and Vapid FMJ, behind the wheel of which you definitely pay attention to yourself. Or, let's say you are planning to buy yourself a new motorcycle, because you just love to overpay for life insurance: in this case, we can recommend Shitzhu hakuchou dragtemporarily cheaper 40%.

Are you a VIP person who is forced to stay among the faceless masses? Do you dream of exclusive services, of luxury and splendor, which lie somewhere out there, behind the inflated bouncers? Then you are the perfect candidate for Diamond programs. Read the information about the unique awards for the participants, it's not too late: you have time until August 7 to earn exclusive works of art, coloring and more.
Follow the announcements in the Rockstar news feed: in the next few weeks we will tell you about new gaming opportunities, vehicles and other updates. And information on all current promotions, bonuses and discounts is available at Social Club event page.
Found a typo? Highlight text and press Ctrl + Enter